EPA 2022 Budapest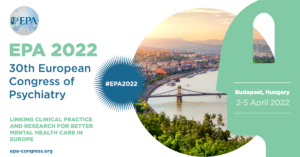 EPA 2022 Budapest will take place on 2-5 April 2022 under the motto: "Linking Clinical Practice and Research for Better Mental Health Care in Europe"
Congress Registration
Registration will open in the autumn via the congress website. Keep in touch with the EPA via the websites or social media for the latest updates on registration opening and other key deadlines.
Abstract Submission
Abstract submission for Oral Communications and e-Posters for the 2022 congress opened on 12 July. Visit the congress website to view the topics list and click here before 22 September to submit your abstract! 
Proposal Submission
The proposal submission for EPA 2022 is now closed. Thank you to those who submitted their proposals for symposia, workshops, and courses to be included in the EPA 2022 Scientific Programme.
Scientific Programme
The Congress will bring together expert clinical psychiatrists, researchers and key opinion leaders who will discuss hot topics and latest advances in the field of mental health.
The EPA will also propose a dedicated programme tailored to the needs of Early Career Psychiatrists, including symposia and workshops centred on topics relevant to young psychiatrists.
The European Congress of Psychiatry will serve the educational mission of the EPA by providing high-quality education courses, covering all aspects of psychiatry.
2022 Programme update: Congress committees are currently evaluating session proposals and will announce the preliminary programme in the autumn. Stay tuned for more information after the summer holidays!
Key congress dates
12 July-22 September 2021: Abstract Submission period for Oral Communications and e-Posters
2-5 April 2022: 30th European Congress of Psychiatry
Information and contact
Find all information and latest updates on the 2022 Congress website.
For any questions, please get in contact with the Congress Secretariat.