2022 Winner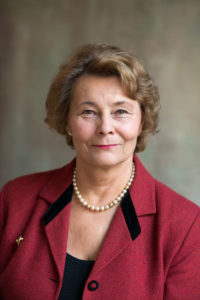 Professor Danuta Wasserman was selected by the members of the jury as the 2022 winner of the EPA Constance Pascal – Helen Boyle Prize of €10,000 for Outstanding Achievement by a Woman in Working to Improve Mental Health Care in Europe.
Prof. Wasserman is a Univ. Prof. Dr. Med. in Psychiatry and Suicidology and the current Director and Founding Head of the National Centre for Suicide Research and Prevention of Mental Ill-Health at Karolinska Institutet. Prof. Wasserman is also the Director of the WHO Collaborating Centre for Research, Methods Development and Training in Suicide Prevention and assists in the development of suicide preventive research and suicide preventive programmes on five continents. Prof. Wasserman is the President-Elect of the World Psychiatric Association (WPA), incoming as President in 2023 – 2026.
Prof. Wasserman has won several national and international honours and awards. Prof. Wasserman has also authored numerous scientific articles, reports and book chapters. Prof. Wasserman's research activities comprise epidemiological, psychodynamic and genetic studies of suicidal behaviours. She was responsible for organising several national and international conferences in psychiatry and suicidology.
Since 2021, Prof. Wasserman's leads a global COVID-19 BIC project to prevent suicide together with the WPA, supported by the European Investment Bank. Since 2000, she serves as the Principal Investigator for the Genetic Investigation of Suicide and Attempted Suicide Project, funded by the Knut and Alice Wallenberg Research Foundation in Sweden. Prof. Wasserman's serves as a consultant to the mental health promotion and suicide preventive studies among youth to several universities in Europe, Asia, Latin America and the United States.
Prof. Wasserman is the chair and a member of several national and international working groups on mental health promotion and suicide prevention.
The EPA warmly congratulates Prof. Wasserman on this well-deserved distinction, which recognises her exceptional contribution towards better mental health care in Europe.