2023 Winner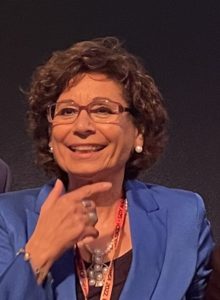 Professor Silvana Galderisi was selected by the members of the jury as the 2023 winner of the EPA Constance Pascal – Helen Boyle Prize of €10,000 for Outstanding Achievement by a Woman in Working to Improve Mental Health Care in Europe.
Silvana Galderisi, MD, PhD, is a full professor of Psychiatry, Director of the Emergency Unit of the Department of Mental Health of the University of Campania Luigi Vanvitelli; Coordinator of the Outpatient Unit for Anxiety and Psychotic Disorders and of the Rehabilitation Program for severe mental disorders of the same Department.
She is Chairperson and founding member of the European Group for Research in Schizophrenia (EGRIS), President of the Italian Society for Psychopathology, Past President of the European Psychiatric Association, Chairperson of the Standing Committee on Ethics of the World Psychiatric Association (WPA), and Co-chair of the WPA Working Group "Implementing alternatives to coercion in Mental Health Care".
She is a board member of the European Scientific Association on Schizophrenia and other Psychoses and of the Italian Society of Biological Psychiatry. She is Honorary Fellow of the World Psychiatric Association-WPA, Honorary Member of the Polish Psychiatric Association and of the Hungarian Psychiatric Association, International Distinguished Fellow of the American Psychiatric Association, International Advisor of the Japanese Society of Psychiatry and Neurology, and Honorary Fellow of the European Society of Social Psychiatry.
Her research activity focuses on Schizophrenia pathophysiology, treatment and outcomes, with particular reference to the domains of negative symptoms and cognition and their impact on psychosocial outcomes. She is an author/co-author of more than 400 publications, in national and international journals and books, and a member of the Editorial Boards of several international psychiatric journals. She is Editor in Chief of Schizophrenia Bulletin Open, and handling editor of the British Journal of Psychiatry Open.
 The EPA warmly congratulates Prof. Galderisi on this well-deserved distinction, which recognises her exceptional contribution towards better mental health care in Europe.