2018 Policy Event

Joint EPA-GAMIAN Europe event: "New horizons for person-centred mental health research and care"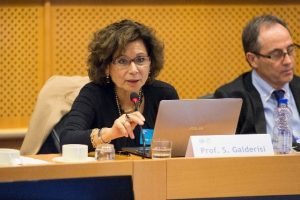 "People with mental health issues should be put at the centre of their treatment and care and should always be viewed as partners in research and care."
Prof. Galderisi, EPA President (3 December 2018, Brussels)
On 3 December 2018, the EPA held its first ever Interest Group meeting in the European Parliament in Brussels jointly organised with patient organisation GAMIAN-Europe. The topic of this Interest Group meeting on Mental health, Well-being and Brain Disorders meeting entitled "New horizons for person-centred mental health research and care".
The aim of the event was to make a strong case to ensure a meaningful place for person-centred mental health research and care at the EU and national levels.
There is general consensus on the crucial importance of this concept: all mental health stakeholders – e.g. patients, health care professionals, policymakers, care and service providers – agree that person-centredness is essential if appropriate. Effective and high-quality mental health care services are to be developed and delivered. And indeed, a number of recent and current EU-funded research projects explicitly take into account this perspective.
As the EU is about to embark on a new, comprehensive and large-scale research programme, the Interest Group, GAMIAN-Europe and the EPA felt strongly that the time was ripe to organise a policy event with a specific focus on person-centred mental health research and care.
Hosted by Marian Harkin MEP, co-chaired by EPA President Prof. Galderisi and EPA president-elect Prof. Gorwood, and attended by some 60 experts – representatives of patient and health professional organisations, policymakers and researchers – was the occasion for a welcome and timely opportunity to exchange views on how a person-centred perspective can be ensured in EU-funded and mental health related research programmes. As the EU is on the verge of embarking on the next comprehensive Research and Innovation programme, Horizon Europe, the event provided a useful platform for stakeholders to put forward their views and input the ongoing EU-level and national discussions on the content of this proposal.
For more information about the event please find the following documents here:
"If you care about a topic to be understood by a politician, don't let it go."
Tomas Zdechovsky, MEP (3 December 2018, Brussels)