Board Elections at EPA 2019 Warsaw – Apply now!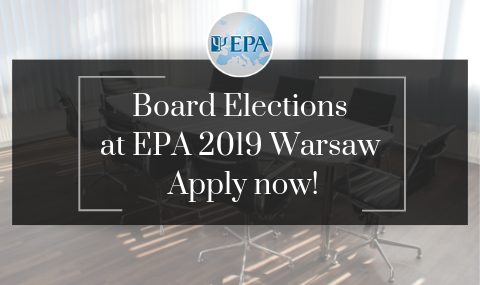 The next European Psychiatric Association Board will be elected during the General Assembly on Sunday, 7 April 2019 in Warsaw.
The EPA Board is vested with the broadest powers to act on behalf of the EPA and to perform any actions and operations that are not reserved for the Ordinary or Extraordinary General Assemblies.
This election, 6 seats are available, and the mandate is for 4 years (from 7 April 2019 to 2 April 2023).
All Honorary members as well as fully paid-up Individual Members and Fellows (2019 fees) are encouraged to apply by 7 March 2019 at 12:00 noon CET.
More details on the application procedure and deadlines are available on the EPA extranet http://extranet.europsy.net.
Now is your chance to have a direct influence on the future of European Psychiatry!