Congratulations to the 2020 EPA Prize winners!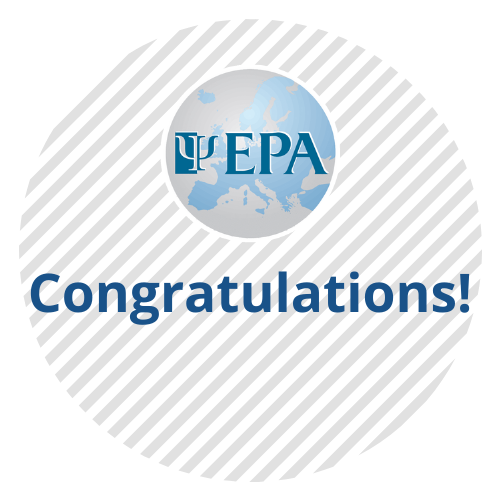 The EPA warmly congratulates all the 2020 Research Prizes and Scholarships winners on their well-deserved success!
EPA Research Prizes
The EPA Research Prizes rewards the authors of the best scientific papers published in the last year in 5 different categories. The international jury has selected, among all the excellent applications, 5 winners for the 2020 Research Prizes, who will be awarded a €2000 prize each:
Category 1: Best paper published in European Psychiatry: Covadonga M. Díaz-Caneja (Spain)
Category 2: Biological correlates and treatments of mental disorders: Philipp Homan (Switzerland)
Category 3: Child and adolescent Psychiatry: Antonín Šebela (Czech Republic)
Category 4: Psychiatric epidemiology, social psychiatry and psychotherapeutic interventions in mental disorders: Sinan Guloksuz (The Netherlands)
Category 5: Clinical psychopathology and refinement of psychiatric diagnostic categories: Kimberley Kendall (UK)
ECP Scholarships
The EPA is also pleased to  award 10 Scholarships to selected Early Career Psychiatrists and trainees to attend the 2020 EPA Congress in the frame of the Scholarship Programme:
Sarah Bjedov (Croatia)
Giovanni Briganti (Belgium)
Maria Filip (Poland)
Jamila Ismayilova (Azerbaijan)
Lucie Jurek (France)
Aiste Lengvenyte (Lithuania)
Charlotte Migchels (Belgium)
Dorottya Oria (Hungary)
Asilay Seker (Türkiye)
George Alexandru Stercu (Romania)
The lucky winners will receive waived registration to participate in the 28th European Congress of Psychiatry, travel and accommodation, event invitations and one year of EPA membership. They will be awarded their prizes onstage during the Opening Ceremony of the EPA Congress, on 28 March in Madrid.