Congratulations to the 2021 EPA Prizes & Awards winners!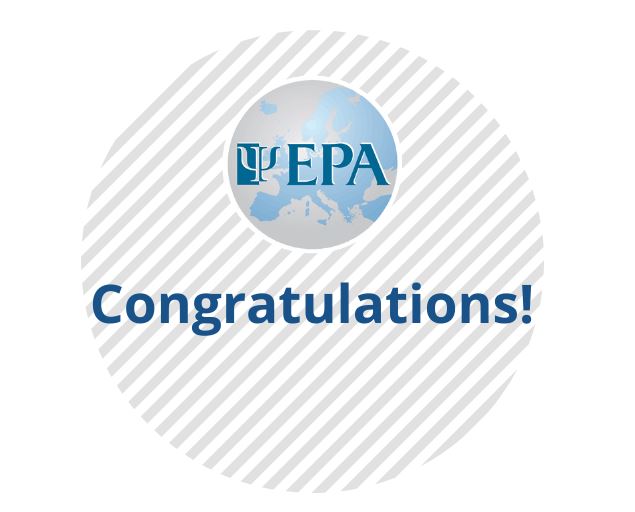 The EPA warmly congratulates all the 2021 Research Prizes and Scholarships winners on their well-deserved success!
EPA Research Prizes
The EPA Research Prizes rewards the authors of the best scientific papers published in the last year in 5 different categories. Among all the excellent applications received, the international jury was able to select 5 winners for the 2021 Research Prizes, who will be awarded a prize of €2000 each and waived registrations to participate in the EPA 2021 Virtual Congress
Category 1 – Clinical psychopathology and refinement of psychiatric diagnostic categories: Diego Quattrone (United Kingdom)
Category 2 – Biological correlates and treatments of mental disorders: Astrid Chevance (France)
Category 3 – Psychiatric epidemiology, social psychiatry and psychotherapeutic interventions in mental disorders: Kimmo Suokas (Finland)
Category 4 – Child and adolescent Psychiatry: Covadonga Martínez Diaz-Caneja (Spain)
Category 5 – Best paper published in European Psychiatry: Clara Lopez Sola (Spain)
More information about their publications available on this page.
ECP Scholarships
The EPA is also pleased to reward 10 selected Early Career Psychiatrists (ECP) in the frame of the ECP Scholarship Programme.
The winners will receive waived registration to participate in the EPA 2021 Virtual Congress and access to one CME course, as well as one year of EPA membership:
Camille Noël (Belgium)
Laura Fusar-Poli (Italy)
Luca Ergevári (Hungary)
Mário J. Santos (Portugal)
Uğur Çıkrıkçılı (Türkiye )
Ceylan Ergül (Türkiye )
Olga Belugina (Belarus)
Fikret Poyraz Çökmüş (Türkiye )
Elona Dashi (Albania)
Filip Mustač (Croatia)