Emergency Psychiatry
Section committee
---
---
Aims & Objectives
Section mission
Members of the section are psychiatrists working in different fields of mental health at Universities, Hospitals and other Health Care System Units. However, the target section is to include emergency medicine physicians and other professionals involved in mental health prevention interested in the complex differences in approaches to emergency psychiatry linked to social evolutions, immigration, women and children violence, welfare crisis due to economic reasons.
The aim of the Section is to address the developing challenges to emergency psychiatrists in this second decade of the 21st century, indicating growing areas such as natural and human induced disasters, victims of genocide, human violence and terrorist attacks,. A considerable range of topics can be treated, including substance abuse, commitment, aggression, PTSD, EMDR, suicide, catastrophes. A particular attention must be dedicated to different European legislation about the use of restraint systems and civil commitments.
The Section seeks to better define emergencies and urgencies in Psychiatry and to differentiate which kind of violence has to be considered as induced by psychopathological conditions or a derivate of "human being".
The in progress Italian experience (i.e. the University Department of Mental Health in Turin) includes services of drug and alcohol addiction, adolescence, psychology, psychiatric emergencies and PTDS treatments. Interaction with mental health and drug services may be a topic to be discussed and compared at European level.
Thus, because some items of Emergency Psychiatry could be considered as cross cultural, certainly strong collaboration with other Sections may be considered.
Key issues of Emergency Psychiatry
The clinical implications of emergency psychiatric care
Emergency psychiatry in urban areas
Different and cross cultural models of intervention
Deinstitutionalisation, treatment of acute psychiatric disorders, commitments, reclusion and restraint.
Community treatments as an alternative to psychiatric hospitalization
Trends and guidelines in contemporary psychiatric emergency services
Reflections on different emergency psychiatry policies in Europe
Section objectives
To share information of different practices and legislation in different parts of Europe
To compare clinical service, different practices, research, training and policy across Europe
To promote training and the continuing education of health professionals about crisis and emergency mental health care
To encourage research in all aspects of crisis and emergency psychiatric care
To stimulate recruitment into the field of emergency psychiatry
To exchange information among the members of the association
To realize a network for exchange of ideas, policy development and for research
To enhance partnerships and alliances with other EPA sections and national and international associations dedicated to emergency psychiatry
To network with other organisations, with a focus on catastrophes
To reduce seclusion and psychopharmacological intervention in the initial crisis onset
Activities
Meetings/events
Master Mind EU Pilot Project on Telemedicine against Depression

Description :
2013-2017 EU Pilot Project, on telemedicine against depression
Partners :
Danmark /Sidddanmark) Spain (Basque Region, Galicia, Aragon, Catalugna-Badalona) UK (Wales, Scotland) Greece, Turkey, Italy (Piedmont. Veneto) Ireland, Germany, Norway, The Nederlands, Belgium, Estonia, Greenland, Norge, EAAD-(Ong)
Venue :
Barcelona, Odensee, Treviso, Torino
Date :
June, March, June, September 2013-2017
Attendance :
127 professionals, stakeholders, doctors, nurses, informatic experts
PR China, Xinxiang University (Henan Province) Agreement to settle an University Campus and an International Course on Traditional Medicine, Psychiatry and Non Conventional Therapies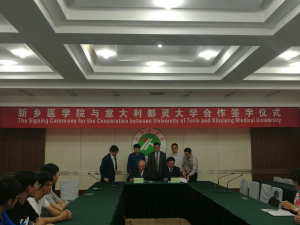 Venue :
Xinxiang
Date :
April 30 May 5 2018
Attendance :
Vice President of Xinxiang University
Onsite Meeting

Partners :
Government of Estado di Piauì (Brasil)
Venue :
Theresinas
Date :
April 15-20 2017
Attendance :
Governor Wellington Dias and staff
Audition Chamber of Deputies - National Italian Parliament

Description :
Main Speaker of the Presentation to the National Italian Parliament -a National Law Project on post hospitalisation communities
Partners :
Prof Luigi Janiri EPA section chair
Date :
July 6, 2017
Attendance :
President of Justice Commission of Deputies Chamber (On. Ferranti) , Vice Minister of Ministry Of Grace and Justice (on. Ferro), President of DP Parliament Group (On. Rosato), several Deputies, Professors of Medical Schools, University Law Schools, experts, clerks
University of Turin Network of Lessons

Description :
Lesson on Violence against woman. Network of lessons in the Day against Violence November 25, 2017
Date :
25,XI,2017
Attendance :
Students of Turin Medical School and Nurses and Psychiatric Rehabilitation
International Book Fair of the City of Turin.

Description :
Presentation of the book Sbatti il matto in prima pagina (Bang the mad in the front page) Author Pier Maria Furlan in the International Book Fair of the City of Turin.(Salone Internazionale del Libro di Torino, one of the most important book fair in Europe ) The book traces the history of the Italian Law which leaded to the closure of Mental Asylums through 1500 articles of the principal Italian newspapers in the decade 1968-1978 (more than 1500 articles)
Venue :
Ad Hoc presentation Turin International Book Fair
Date :
April 2017
Attendance :
250 ps. Presented by the Rector of Turin University
Peer Education Course. European School

Description :
Peer Education Course. European School. Ten lessons for training on peer education on Drug Addiction and Psychiatric Emergencies. An ad hoc educational programme for mid school students for training in peer education.
Partners :
Section on Emergency Psychiatry WPA, EPA, SIP
Venue :
Ten lessons
Date :
november 2016-june 2017
Attendance :
30 students, representative of 10 classes for 300 secondary state school
Florence XXV EPA Congress

Description :
Coordiantion meeting of the EPA Section
Partners :
21 EPA Sections
Venue :
XXV EPA Meeting
Date :
April 1-4 2017
Symposium at the National Italian Congress of the Italian Psychiatric Society

Description :
• The section has organised a symposium at the National Italian Congress of the Italian Psychiatric Society (held every three years).
Date :
2018
Course on Emergency psychiatry

Description :
Courses on emergency were included in two Master post doc degree 1) School in Hospital (1 University credit 8 h.), 2) Master in Hospital Managing (5 h). Didactic tele conferences has been held with Brazil States
Date :
2018
Presentations at non-section events

Journal :
Italian representatives have participated in Regional and National refresher courses for journalist and lawyers (Turin, Asti, Alessandria, Novara, Cosenza, Roma, in order to improve the press reporting of psychiatric events (including the incorrect attribution of crimes to psychiatric causes) and to better understand the role of psychiatric expertise in civil and criminal court hearings and trials. A special meeting has been organised in the Turin University and in the Turin Book Messe -Salone del libro di Torino-)
Conferences on the psychiatric experience have been held in the Chinese Universities of Heinan, Boao, Hubei Xinxiang in October, December 2018 and January 2019.
A research on Civil Commitments in the Turin five G.H with psychiatric ward, after twenty years observation has been published in the Journal of American Emergency Psychiatry (Feb 2019, 2 Issue). The book on the closure of Mental Hospital in Italy (PM Furlan, Donzelli ed. Roma 2016, p. 450, has been discussed in several presentations.
An International agreement with the Brazilian States of Piaui, Rio Grande do Sul and Nova Iguaçu has been renewed (since 2003) and, in collaboration with the Department Clinical and Biological Sciences of Turin University, (Scientific responsible prof. Pier Maria Furlan). Two members of the Section have hold several courses in 2018 by teleconferences (Furlan, Oliva). A special seminar will be held in Brazil next spring on Psychiatry and Community Interventions in Terensinhas, Nova Iguaçu, San Paolo and Sao Lorenço do Sud May 2019). Of particular importance how to use mental hospitals and to manage mental care in the community. The section in collaboration with the School in Hospital national network will work with regional hospitals in the above States to transmit and share the practicalities of the educational experience with hospitalised children.
A major activity has been run by the Dutch representatives (report not arrived in time). Professor Mulder (vice Chair) has published a considerable number of international papers (pub med).
Other Section activities

Desciption :
Project for settling a Library and a cultural meeting point for psychiatric and disabled patients in the University San Luigi Generale hospital linked with the network of Metropolitan Area of Turin libraries (1.5 mln books, 65 Libraries)
Time period : July 2017 November 2019
Calendar of Future Activities
Conference on "Crisis, Coercion and Intensive Treatment in Psychiatry"

Desciption :
Professor Sam Tiano and the Dutch Psychiatric Association is organising an on going International meeting involving the World Psychiatric Association and the Emergency EPA and WPA Sections in a co-sponsored conference on "Crisis, Coercion and Intensive Treatment in Psychiatry" which might be held in 2020.