EPA 2024 Congress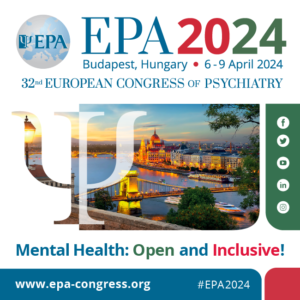 The EPA 2024 Congress will take place on 6-9 April 2024 in Budapest, Hungary, under the motto: "Mental Health: Open and Inclusive!".
Budapest, the capital city of Hungary is one of the most beautiful and cultured cities in Europe. The city is famous for its stunning architecture, thermal baths, and rich history. Budapest is bisected by the Danube River, with the hilly Buda district on one side and the flat Pest district on the other.
Don't miss the opportunity to meet leading experts in mental health care. Find all information and latest updates on the 2024 Congress website.
Early Bird Registrations are open!
Early bird registrations are now open for the 32nd European Congress of Psychiatry.
Click here to register early and save!
Scientific Programme
The Online Programme is now available here.
The Congress will bring together expert clinical psychiatrists, researchers and key opinion leaders who will discuss hot topics and latest advances in the field of mental health.
The EPA will also propose a dedicated programme tailored to the needs of Early Career Psychiatrists (ECP), including symposia and workshops centred on topics relevant to young psychiatrists. You can find the ECP Programme here.
The European Congress of Psychiatry will serve the educational mission of the EPA by providing high-quality education courses, covering all aspects of psychiatry.
Late breaking Abstract Submissions are now closed!
To be considered for presentation at EPA2024, abstracts need to be submitted before 10 November 2023, 23:59 CEST.
To ensure a fair and smooth review process, Abstracts submitted via e-mail will not be accepted. Therefore, it is essential to adhere to the provided guidelines and use the online submission system to ensure a successful Late breaking Abstract submission.
Accepted authors will be notified of the decision by January 2024.
Information and contact
Find all information and latest updates on the 2024 Congress website.