Webinar on "Ethical principles and dilemmas in psychiatry"
Thank you for your participation!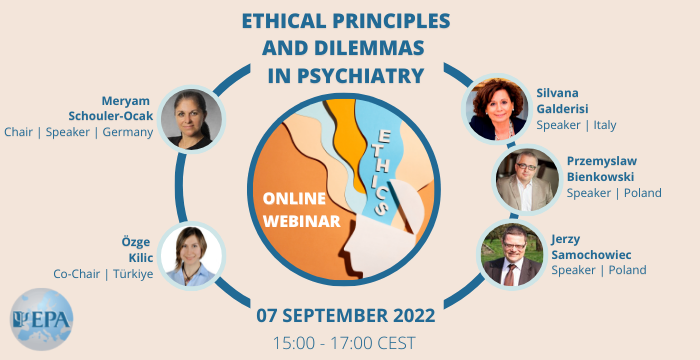 On Wednesday 7 September 2022, the Committee on Ethical Issues, the Early Career Psychiatrists Committee and the NPAs Steering Committee joined forces during an online webinar to discuss ethical principles and dilemmas in psychiatry.
The EPA Code of Ethics intends to guide the ethical practice of psychiatry by offering a comprehensive approach to the ethical challenges in the field. It highlights universal ethical principles and considers their application to the specific practice of psychiatry. Ethical questions in psychiatric practice are manifold: tensions between respect for autonomy versus care and protection from harm, problems with coercive therapy and capacity for judgement etc.
Clinical ethics and consultation in psychiatry is a relatively new field that involves not only ethical reflection but also support for practice. Its implementation is linked to wishes and hopes, not only of individuals, but also of the institution of psychiatry as a whole: more freedom instead of coercion, help with questions of conscience, social recognition for work done, the experience of meaning and fewer value conflicts in dealing with patients. Thus, there is a need for promotion of ethical competence of professional groups in psychiatry.