2023
4th EPA Online Talks with Experts
The fourth Online Talks with Experts session took place on Thursday, 06 July 2023 from 15:00 CEST with the participation of Dr Ken Courtenay on the topic "Mental Health in Intellectual Disability". Dr. Courtenay has over twenty years' experience working with people with intellectual disabilities in the UK as a consultant psychiatrist.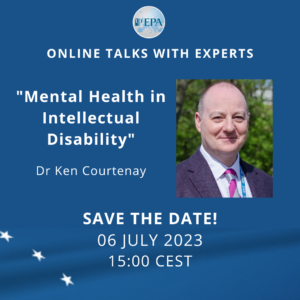 This 1-hour exchange started with a short presentation followed by a Q&A session. The talk explored clinical presentations, assessment, and treatment of mental disorders in people with intellectual disabilities outlining the specific skills that a psychiatrist can develop to support people with ID.
All participants were thankful for this exciting collaboration between the EPA Early Career Psychiatrists Committee and the EPA Section on Mental Health and Intellectual Disabilities (MHID)!
3rd EPA Online Talks with Experts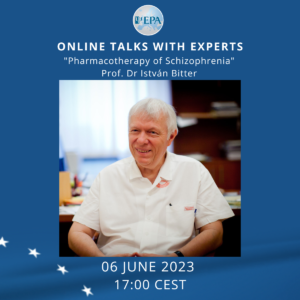 The third session of Online Talks with Experts, organised in collaboration between Early Career Psychiatrists Committee and the EPA Section on Psychopharmacology, took place on  06 June 2023.
The Online Talk with the invited expert Prof. Dr István Bitter, Professor of Psychiatry in Semmelweis University, Budapest, Hungary, was focused on the topic of the "Pharmacotherapy of schizophrenia".
The topic and the invited expert generated considerable interest among early career psychiatrists not only in Europe but also in other parts of the world, with a total of 57 participants from 24 countries attending the Online Talk. During the session Prof. Dr. István Bitter gave a short presentation on the basics of antipsychotic therapy in schizophrenia, including the mechanisms of action of modern antipsychotics with a focus on third generation drugs. Questions focused both on the clinical use of antipsychotics and on the future of patients with schizophrenia treatment.
Some examples of questions asked during the session:
What are the drugs of choice for treating the first episode of psychosis?

What do you think about TMS for negative symptoms?
What treatment duration is recommended for patients with schizophrenia?
Any recommendations/suggestions for combination regime for antipsychotics?
Prof. Dr István Bitter described in detail how to choose the first antipsychotic to initiate therapy in schizophrenia, the scientific data on the recommended duration of antipsychotic therapy, approaches to the treatment of negative symptoms, practical tips of safe antipsychotics combination, and the use of non-medicinal treatments for schizophrenia (ECT, TMS).